Chances are good that you would not be reading this article or looking at this infographic if not for the massive telecommunication companies around the world. What is a telecom company? Telecommunication companies are responsible for transmitting electronic information around the world. This electronic information can be in the form of phone calls, text, images, or video. Telecommunication networks include the telephone landline network, the mobile phone network, cable TV networks, and the Internet. It is incredible to imagine the colossal volume of information that bounces between these networks, like an omnipotent force that fuels our daily lives. But which are the most profitable telecom companies in the world? The team at VoiceNation has created this visualization of the biggest telecom companies worldwide and how much they make per second: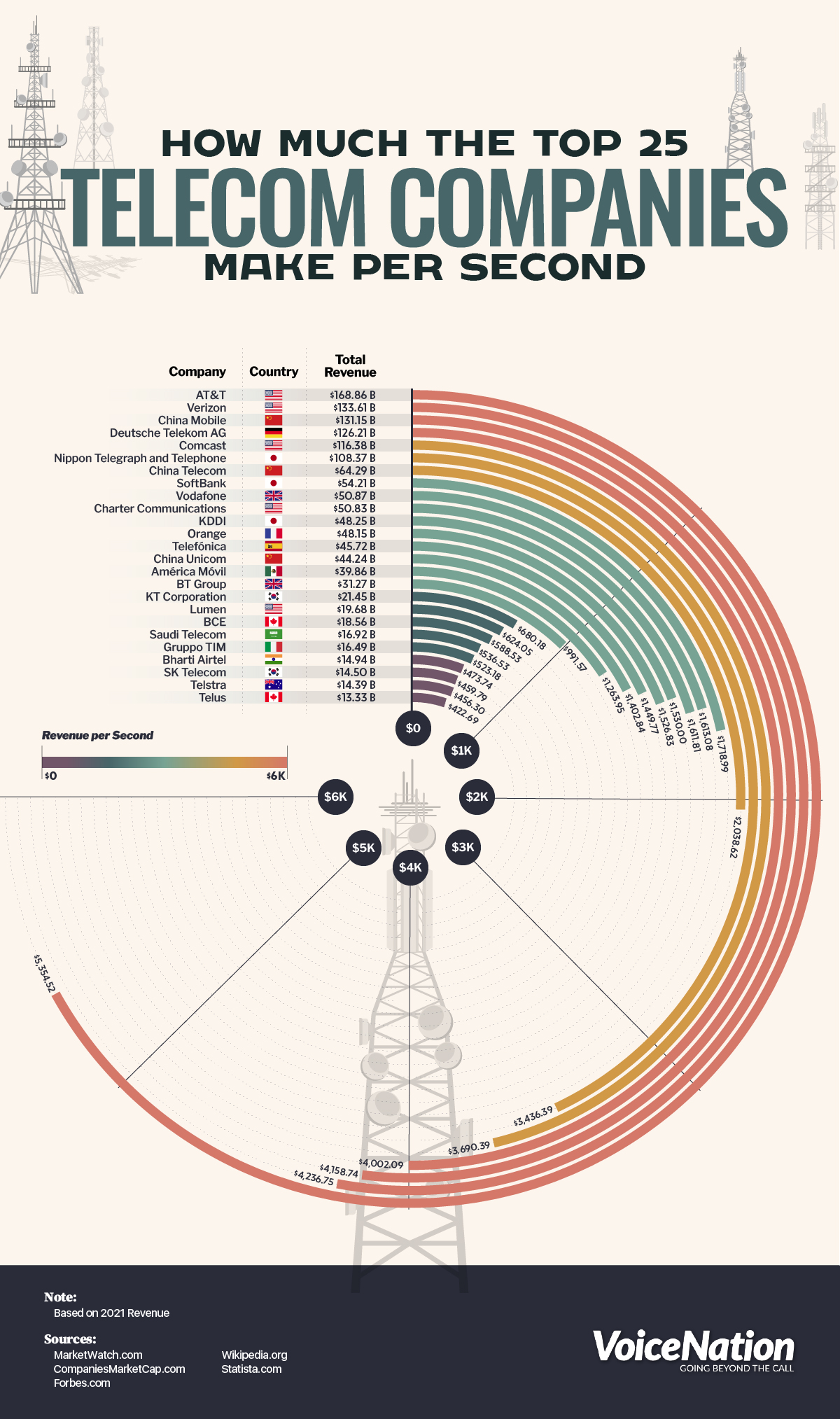 What Is the Biggest Telecom Company in the World?
What is the largest telecom company in the U.S. and in the world? The answer is the same: The world's biggest telecommunications company is AT&T, with an awe-inspiring revenue of $168.86 billion.
Here are the top 25 biggest telecom companies in the world by revenue in 2021:
AT&T: $168.86 billion
Verizon: $133.61 billion
China Mobile: $131.15 billion
Deutsche Telekom AG: $126.21 billion
Comcast: $116.38 billion
Nippon Telegraph and Telephone: $108.37 billion
China Telecom: $64.29 billion
SoftBank: $54.21 billion
Vodafone: $50.87 billion
Charter Communications: $50.83 billion
KDDI: $48.25 billion
Orange: $48.15 billion
Telefónica: $ 45.72 billion
China Unicom: $44.24 billion
América Móvil: $39.86 billion
BT Group: $31.27 billion
KT Corporation: $21.45 billion
Lumen: $19.68 billion
BCE: $18.56 billion
Saudi Telecom: $16.92 billion
Gruppo TIM: $16.49 billion
Bharti Airtel: $14.94 billion
SK Telecom: $14.50 billion
Telstra: $14.39 billion
Telus: $13.33 billion
How Much Does AT&T Make per Second?
AT&T makes a staggering $5,354.52 per second!
How Many Subscribers Does AT&T Have?
AT&T subscribers reached around 101.8 million in 2022.
How Much Does Verizon Make per Second?
Verizon makes $4,236.75 per second.
Does AT&T Own Verizon?
No, but Verizon was originally Bell Atlantic, which was formed in the breakup of AT&T in 1984. So in a way, Verizon emerged from the success of AT&T.
How Many Subscribers Does Verizon Have?
Verizon subscribers reached around 142.8 million in 2022.
How Much Does China Mobile Make per Second?)
China Mobile makes $4,158.74 per second. China Mobile is the third largest telecom company in the world, providing mobile voice and multimedia services across China and Hong Kong. The number of China Mobile subscribers reached 975 million at the end of 2022.
How Much Does Comcast Make per Second?
As the fifth-largest telecommunication company, Comcast makes $3,436.39 per second.
When Was AT&T Founded?
The history of AT&T dates back to 1877, when the Bell Telephone Company was founded, the very first telephone company. The (largest telecommunications company in the world) was originally founded by Gardiner Hubbard, father-in-law of Alexander Graham Bell, who had invented the telephone just one year earlier. After a quick series of mergers and name changes, the company evolved into the American Telephone and Telegraph Company, formed in 1885.
AT&T and its army of subsidiaries spread across the United States, effectively becoming a phone service monopoly. This phone service monopoly became federally authorized by the Kingsbury Commitment.
What Is the Kingsbury Commitment?
The Kingsbury Commitment was a 1913 out-of-court settlement between the United States government and AT&T. In exchange for the government's agreement not to pursue its antitrust case against AT&T, AT&T agreed to divest its controlling interest in the Western Union telegraph company and allow independent telephone companies to connect with the AT&T long-distance network. AT&T kept its near-monopoly until the 1980s, when the federal government forced the breakup of the company.
How Much the Top 25 Telecom Companies Make per Second
| | | | |
| --- | --- | --- | --- |
| Company | Total Revenue | Revenue per Second | Country |
| AT&T | $168,860,000,000 | $5,354.52 | United States |
| Verizon | $133,610,000,000 | $4,236.75 | United States |
| China Mobile | $131,150,000,000 | $4,158.74 | China |
| Deutsche Telekom AG | $126,210,000,000 | $4,002.09 | Germany |
| Comcast | $116,380,000,000 | $3,690.39 | United States |
| Nippon Telegraph and Telephone | $108,370,000,000 | $3,436.39 | Japan |
| China Telecom | $64,290,000,000 | $2,038.62 | China |
| SoftBank | $54,210,000,000 | $1,718.99 | Japan |
| Vodafone | $50,870,000,000 | $1,613.08 | United Kingdom |
| Charter Communications | $50,830,000,000 | $1,611.81 | United States |
| KDDI | $48,250,000,000 | $1,530.00 | Japan |
| Orange | $48,150,000,000 | $1,526.83 | France |
| Telefónica | $45,720,000,000 | $1,449.77 | Spain |
| China Unicom | $44,240,000,000 | $1,402.84 | China |
| América Móvil | $39,860,000,000 | $1,263.95 | Mexico |
| BT Group | $31,270,000,000 | $991.57 | United Kingdom |
| KT Corporation | $21,450,000,000 | $680.18 | South Korea |
| Lumen | $19,680,000,000 | $624.05 | United States |
| BCE | $18,560,000,000 | $588.53 | Canada |
| Saudi Telecom | $16,920,000,000 | $536.53 | Saudi Arabia |
| Gruppo TIM | $16,499,000,000 | $523.18 | Italy |
| Bharti Airtel | $14,940,000,000 | $473.74 | India |
| SK Telecom | $14,500,000,000 | $459.79 | South Korea |
| Telstra | $14,390,000,000 | $456.30 | Australia |
| Telus | $13,330,000,000 | $422.69 | Canada |