New York is among the cities that prefer working from home

Kansas City

is among the cities that love the office environment
Remote working has become the norm for many over the past two years, with no signs of going back into the office. And with the search trend 'hybrid working' seeing an increase of +250% in the past 12 months, and over 822k remote jobs on LinkedIn, it is clear people are still very much interested in flexible working models.
But which cities are more in favor of remote working? A new study by live answering service, VoiceNation, has created a map of the US, which shows the cities that prefer remote working, versus those that don't.
The study looked at positive and negative sentiments through Linkfluence.com, revealing which US cities are the most avid fans of remote working, and which aren't.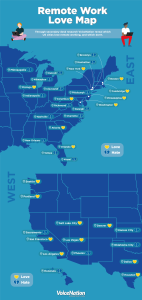 The cities that love remote working the most
New York, the city that never sleeps, is among the top cities which prefer working from home. Here, New Yorkers have mostly good things to say about working from the comfort of their own homes. Who can blame them, when you can simply put on a nice shirt but keep your pajama bottoms on? In fact, a study from 2020 on Statista.com found that over two-fifths (22.8%) of US workers wanted to continue their work from home after the pandemic lockdowns eased.
Washington and Orlando also prefer remote working to work in the office. After two years of lockdowns and uncertainty, it's easier to remain at home rather than start with long commutes and packed subways once more.
On the west coast, we have San Francisco and Los Angeles, both in love with remote working. With remote work, you no longer need to commute or spend time in traffic, so it's perfect for people to enjoy more time with family and friends and spend the time exercising during lunch hour or going for a coffee with a friend!
If you've managed to secure a remote job, you're not alone. According to Statista.com, over 91 million Americans had been offered the chance of working remotely, either full-time, or in a hybrid role where you can go into the office a few days a week, and then work from home the rest.
The cities that prefer working in an office
There were some cities which preferred working in the office rather than at home. Kansas City and Minneapolis were among the cities which favored the busy bustle of an office environment, as well as Indianapolis and Charlotte.
Although 22.8% wanted to keep the remote working policy in the US, 31.9% admitted they wanted to return to the office as soon as the lockdowns eased, and it was safe to do so.
New Orleans and Miami, both busy cities with so much going on, preferred to work in the office. Despite many thinking it's easier to work from home and save the money you'd normally spend on commuting and lunches; many still like to see their colleagues face to face.
There is no right or wrong opinion about remote working. Since it's here to stay, more people will be able to find the set-up that is right for them, whether it's going into the office often, or working from the comfort of their home.
Commenting on the study, a spokesperson at VoiceNation said, "We have most definitely seen a shift regarding working from home. The younger generations seem to prefer WFH, while older generations who are used to going in five days a week miss the office. Regardless of what you prefer, we hope our study can help people looking to perhaps relocate, or simply understand more about remote working!"
About VoiceNation
Since 2002, VoiceNation has been a leading provider of outsourced call answering and live chat for all types of businesses. They're leaders in industries such as medical, legal, real estate, and small business, with no company too big or small. With VoiceNation, your business receives a dedicated account manager that personalizes your client's experience. Our teams of highly trained virtual receptionists answer your phones as if they were based in your office, restoring balance to your business and your calendar.