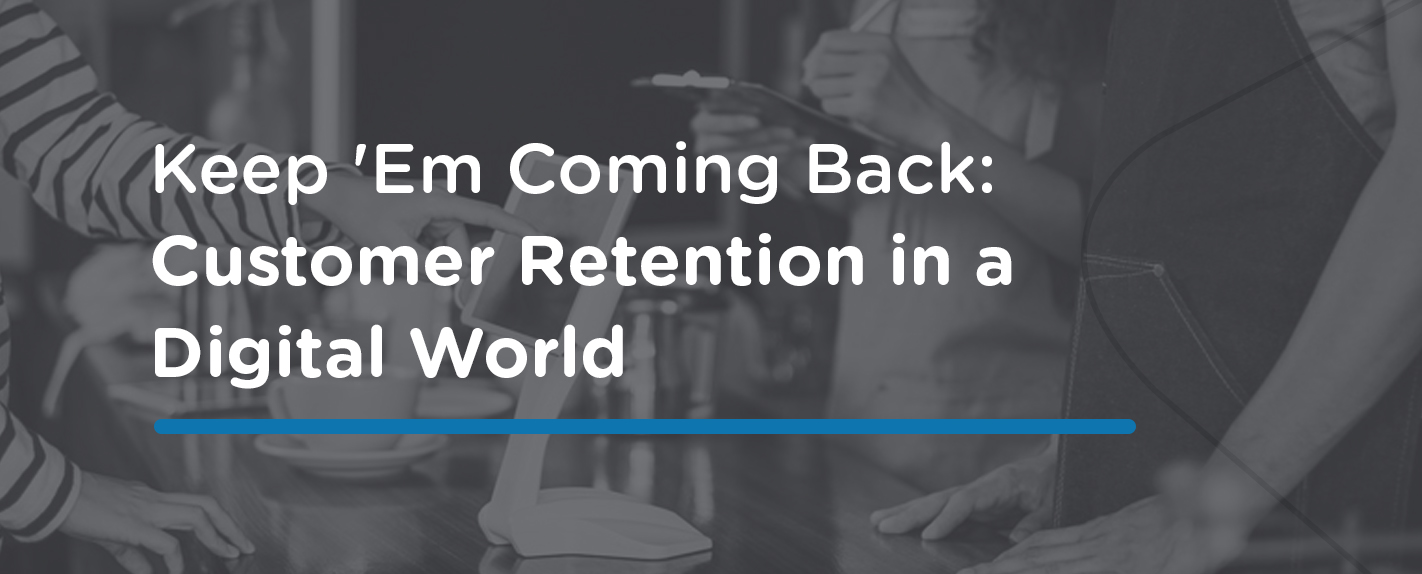 Customer retention is a company's ability to keep the same customers over a certain period of time — in other words, it's a measure of how well businesses can keep their customers coming back. On average, companies spend five to 10 times more money on gaining new clientele rather than making a sale to an existing customer, despite the fact that previous customers will spend 67% more than the average new customer. For this reason, business owners should focus on how to keep customers engaged, so they'll remember to come back the next time they need the same product or service.
In this article, we'll discuss the best ways to go about acquiring new customers so they'll stick around, as well as how to keep customers coming back.
Acquiring New Longtime Customers
Customer retention starts at the acquisition stage. You can do several things during a person's first interaction with your company to encourage them to make an initial purchase and then come back again. Remember, there is a difference between acquiring a new customer who will only make one purchase and acquiring a new customer who will keep coming back. One bad interaction with a company can leave a sour taste in a consumer's mouth for good — and chances are, they're going to tell everyone they know about it, too.
Here are four tips you can apply to your business processes to enhance your customer experience from the very start and therefore improve customer retention.
1. Personalize the Experience
If you're running a brick-and-mortar store, one of the first ways to make an impression on someone who walks through the door is to greet them. Welcome them to the shop and ask them if they need any assistance. You could also introduce yourself and let them know you're available to help if they need anything. When they come to the register to check out, ask them how their day is going. Finally, ask them their name before they leave so you can greet them by name the next time you see them!
What's described above sounds like a standard retail interaction, but for some reason, many companies forget about this process when they switch to doing most of their business online. Just because you're not in person anymore doesn't mean you can't personalize the experience! Use customers' names at the beginning of emails, on their account page as they shop and in other sensible locations. Anything you can do to make your customers feel individually appreciated will encourage them to come back again.
2. Explain Any Products, Services and Rewards Programs
Someone coming to your website for the first time will want to know exactly what you're offering and why they should purchase it from you. Explain your products and services in detail, and make sure those descriptions are easy for the user to find. Break down the features and specifications as much as you can to give your customers the power to make an informed purchase.
You should also provide details about any customer loyalty programs and other rewards systems you offer. Make sure to do this somewhere before the checkout page, or else many site visitors will never get to that point.
3. Offer a Special Discount or Reward With Their Next Purchase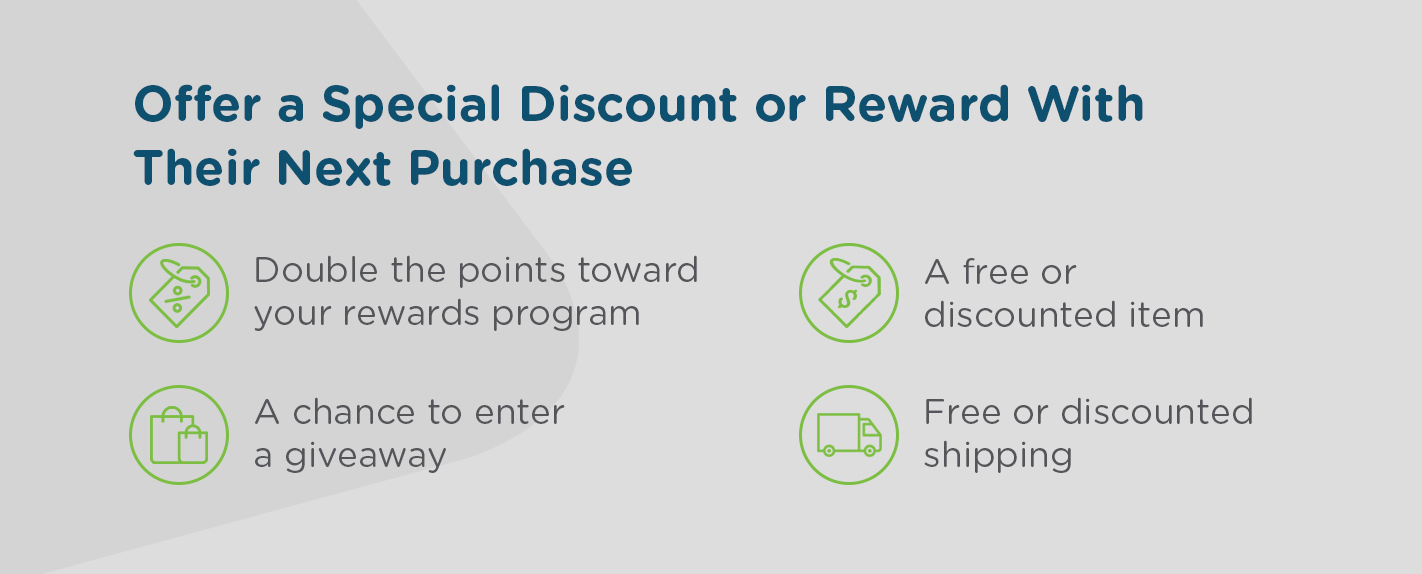 How could someone say no to 20% off their next purchase? Give your customers something that encourages them to come back at some point. Some ideas other than a percentage off their next purchase include:
Double the points toward your rewards program
A chance to enter a giveaway
A free or discounted item
Free or discounted shipping
4. Promote Company Beliefs and Values
Today more than ever, consumers want to really know who they're shopping with. Be sure to highlight any aspects of your company that could appeal to your target market, such as your environmentally friendly processes and materials and that you give back to the local community. When a person notices that a company's values align with their own, they will be more likely to make an initial purchase and return again in the future.
Millennial shoppers especially need to trust a company and relate to their values before they will make a purchase. Let's take sustainability, for example. In Nielsen's 2015 Global Corporate Sustainability Report, the company learned that 73% of millennials say they would pay more for sustainable products and services, as do 66% of all global consumers. The same study in 2014 found those results to be 50% and 55%, respectively. If your corporate policies contain any values that would likely align with your target market, be sure to display them proudly on your website or in your store for everyone to see.
Keeping Customers Engaged
It's an age-old question — why do customers leave? Maybe they moved and switched to a different local company. If their situation changed, they might no longer need your products or services. Or, perhaps your customer retention strategies weren't quite up to par, and they decided to give their business to a company that appreciates it.
A lack of engagement is one of the most common reasons why customers leave, whether it's on purpose or because they genuinely forgot to go back. Here are five ways you can keep them interested and improve your customer retention.
1. Thank Them for Their Loyalty
Whenever you get the opportunity to do so, thank your return customers for coming back! It's simple but extremely effective. Saying thank you could be as easy as sending a follow-up email after a purchase. If you want to really make an impression on your most loyal customers, send your thank you notes and gifts in the mail — that's right, we're talking about the snail mail! With the number of emails people get today, it's easy for yours to get lost in people's inboxes. On the other hand, something about opening up a physical letter or package creates a greater feeling of appreciation.
Other ideas include offering exclusive products, discounts or perks for returning customers, as well as rewards for any referrals they send your way.
2. Keep in Touch
Keep in touch with your customers by reaching out and interacting with them as much as possible. If you ask them for their birthdays when they first sign up or make a purchase, you can send them a birthday card, gift or discount code on their special day. Another idea is to host an event for your loyal customers. Email newsletters are another strategy for staying at the forefront of your customers' minds. Even if every person you send the newsletter to doesn't read it, they will at least think of your company when they see it in their inbox.
3. Use Data to Learn Their Preferences
Companies can use several types of data to learn their customers' preferences and adjust their offerings accordingly. With data collection tools like artificial intelligence (AI), customer surveys, website analytics, social media insights and more, businesses can develop the most effective strategies to keep their customers coming back.
For example, the 80-20 rule says that 80% of your business comes from 20% of your customers. Armed with this information, companies can identify the customers who fall into that 20% category, then focus their marketing and customer service efforts specifically on that group. This is just one example of how having the right data and insights about your customers can make a difference in your business strategy.
4. Provide Excellent Customer Service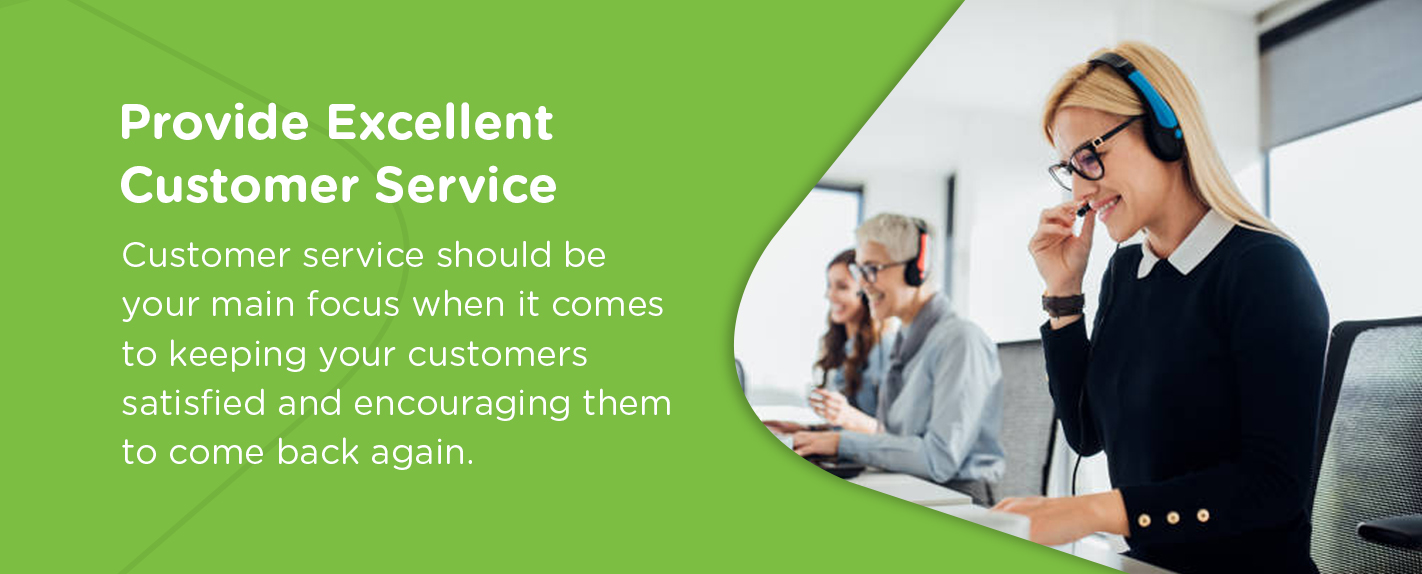 We've already mentioned it several times throughout this post, and that's because it's quite possibly the most important factor in maintaining excellent customer retention rates — customer service. If one of your customers contacts you for assistance, your company needs to be ready to provide whatever they need to make them happy. They may be calling to ask a question, voice a complaint, request a refund or find the solution to an issue with your product or service. Whatever the reason, your service team plays a huge role in retaining that customer.
Often, a customer will stop doing business with a given company due to a negative customer service experience. It's very easy for shoppers to take their business elsewhere in today's consumer-driven world. Customer service should be your main focus when it comes to keeping your customers satisfied and encouraging them to come back again.
Growing Your Business
In business, the goal is almost always for some sort of growth. But, as entrepreneurs scale their businesses, it widens the ratio of staff to customers. With more customers to tend to, it can be difficult to keep up with demand while also providing excellent customer service. Maybe your team starts to miss a few more phone calls than usual, or perhaps your to-do list is overflowing with scheduling meetings, processing orders and calling back potential customers or clients. Whatever the first sign is, many small business owners eventually reach a point where they realize they're outgrowing their current customer management processes.
While it may be more difficult to personally interact with each of your customers as your business becomes larger, your customer retention rates don't have to suffer. By delegating small tasks like administrative duties, call forwarding, customer service issues and more to a virtual receptionist, business owners and other managerial staff members can continue to focus on big-picture tasks and projects.
Hire a Virtual Receptionist
So many small and large businesses are still either missing phone calls from customers or following dated practices for their call management. When you hire a virtual receptionist, you contribute to customer retention in several ways. Any time you're doing something to make your business function more smoothly, you're improving the customer experience — and, therefore, you're encouraging your customers to keep coming back.
The main benefits of hiring a virtual receptionist include: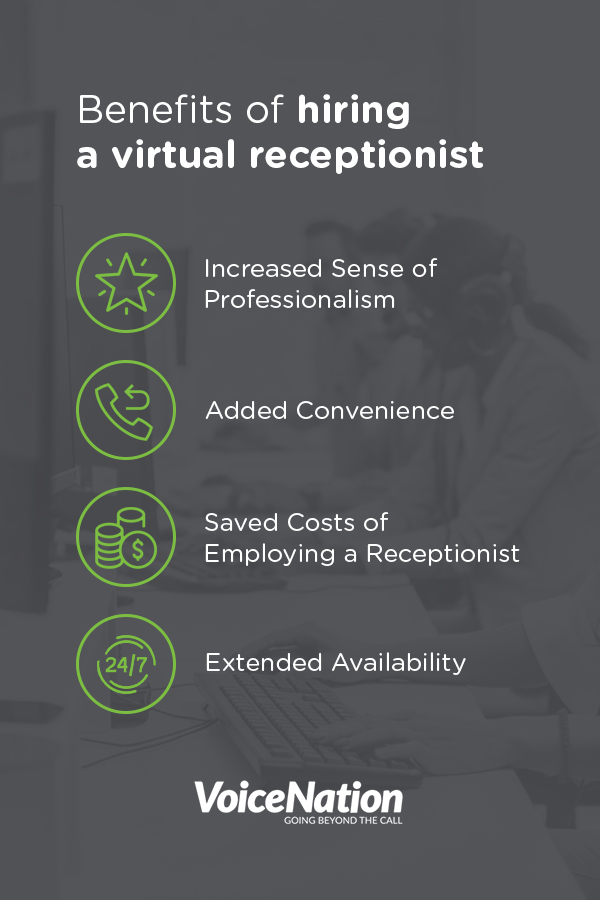 1. Increased Sense of Professionalism
Businesses seem larger and more professional when they have a virtual receptionist. When a customer calls a company, they expect someone to answer by stating the name of the business and asking how they can help. Then, they expect the person on the phone to be prepared to either answer their question, handle their problem or transfer them to someone who can. If someone were to call your company and only hear a busy signal or reach an answering machine, they may question your legitimacy.
2. Added Convenience
With a virtual answering system, you can have the appropriate calls forwarded to you after the receptionist weeds through them. Most virtual receptionists can manage calls dealing with order processing, appointment scheduling, customer service and other administrative tasks without your phone ever having to ring. This also helps with lead generation, as you can have your virtual receptionist sort through potential leads and pass along the most promising calls to you or your staff's direct line. A call answering service will save both you and your team time and allow you to focus more energy on your current projects and goals. This will, in turn, lead to improved productivity amongst your staff.
3. Saved Costs of Employing a Receptionist
Having a receptionist on your staff would certainly be helpful for accomplishing these tasks, but you'll save money by outsourcing administrative and customer service responsibilities to a call answering service. Plus, there's only so much one person can do. Depending on the company and plan you choose, your answering service may be able to take multiple calls for your business at once. To focus this benefit on customer retention, you can that put that saved money into customer rewards programs or offering other discounts for your repeat clientele.
4. Extended Availability
When you choose the right provider, your virtual receptionist can be available 24/7 to manage your customer service and other calls. Even when your business is closed, your phone lines are still open, and your customers can still get the answers and assistance they need. Many answering services will even have dispatch capabilities if your business involves having to visit the customer's home, such as an HVAC company. A virtual receptionist also makes your company more accessible to bilingual customers if you or your staff have not been able to communicate with them easily.
Overall, a virtual receptionist will boost customer retention because it will enhance the entire customer experience, from beginning to end. When customers have a good experience with your company, they're more likely to return and recommend your business to others.
Choose VoiceNation as Your Live Answering Service
One of the best ways to boost your company's customer retention is by offering excellent customer service. When you choose VoiceNation as your live answering service, that's exactly what you'll be able to provide. Our trained experts have the tools, skills and knowledge to handle any type of call to your company, whether it requires them to take a message, make an appointment, manage customer complaints or transfer the call to someone at your office. Plus, we're available 24/7, which means so are you.
Give your customers the accessibility and convenience they deserve by trusting your call management to VoiceNation. Learn more about our live answering services and contact us today for more information.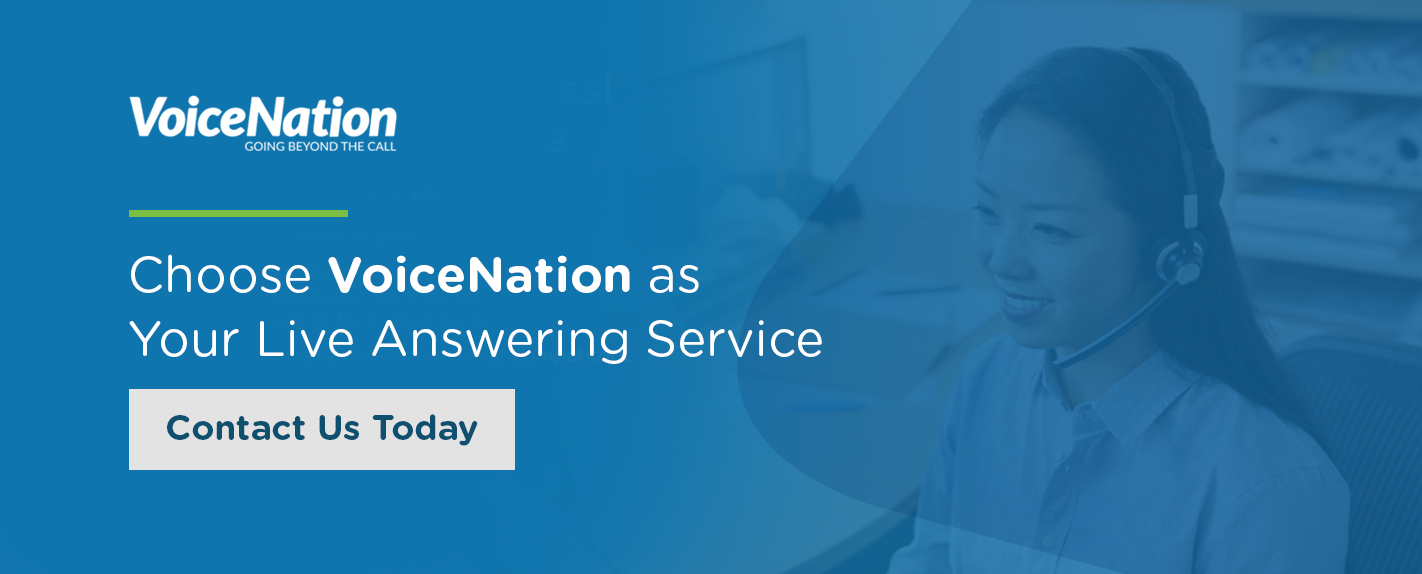 Live Answering Service
Virtual Receptionist by Industry