What is a Virtual Receptionist?
Hold the phone — you've missed yet another call.
Was it a current customer clarifying your hours for an upcoming holiday? Is it a prospect curious about product customizations? A new industry contact looking to set up lunch? You'll never know. They didn't leave a voicemail. But you're sure left with something — the nagging feeling that this call, like the others, was important.
Does this scenario sound all too familiar — or is it a business relations nightmare you're looking to altogether avoid? If so, a virtual receptionist is the answer. VoiceNation is going to give you a virtual receptionist definition.
How Does a Virtual Receptionist Work?
Let's go over the virtual receptionist definition.
Virtual receptionists perform the same functions as a traditional, front-house receptionist — namely answering your business' lines, screening and forwarding calls, taking messages, routing callers to voicemail, and arranging your schedule. The distinguishing trait? They do this all remotely, outside of your business' walls.
More significantly, virtual receptionists are real people — not chatbots or automated answering queues. That means when you partner with a virtual receptionist answering service, you ensure your customers, leads, and business network interface with a warm and personable touchpoint, one that "meets and greets" callers.
Call flows for virtual receptionists typically work as follows:
Clients place the incoming call: Clients or business constituents dial your business' phone number — or your personal line, depending on your receptionist needs. That number is hosted by your answering service and automatically routed straight to your receptionist.
Receptionist answers: Your assigned receptionist greets the caller with a personable, professional greeting. Receptionists follow notes and scripts tailored to your organization's key greeting talking points, ensuring you're represented how you like without sounding like a robot.
Receptionist forwards the call via its appropriate channel: Most often, this will mean connecting the caller to your personal business line. It will also mean directing the caller to voicemail, if necessary, as well as offering to take a message personally, then relaying it to the intended recipient later.
If you answer the forwarded call…
Hooray! Your receptionist will introduce the caller or briefly explain the nature of business, then leave you to it.
If you miss the forwarded call…
No worries! The call reroutes back to your virtual receptionist, who then offers to take a message or connect the caller with your voicemail. Regardless of the caller's choice, your receptionist can immediately send the transcripted message or voicemail to you via email, text, or through their answering service's website and mobile app.
If you're out-of-office…
Your receptionist has your back! Since virtual receptionists have access to your calendar, they're fully aware of any vacations, appointments, meetings, or extended lunches at your favorite barbecue joint where you won't be available for communications. (That pulled pork sandwich is a two-handed job, after all.) They'll immediately prompt a caller to take a message or leave a voicemail. Your phone stays silent until you check your notifications and see forwarded transcriptions waiting.

Depending on your needs, a virtual receptionist's day-to-day duties can also include:
Arranging appointments: Receptionists can serve as your liaison to schedule important business appointments between you and valuable business constituents. Think vendors, contractors, consultants, third-party managed services providers, and more.
Handling bookings: Receptionists can field internal and external booking requests, either those for outsiders looking to use your facilities or for your own event venue needs and purposes.
Fielding caller questions: Using scripts drafted and approved for your organization, your receptionist can be trained to answer customer support questions in real-time. They'll also be able to direct the caller to additional resources that may help them with their inquiry, adding even further value-add to the exchange.
How Virtual Reception Services Build Customer Loyalty and Retention
Virtual receptionists are convenient and customer-oriented, yes. Yet there's another benefit to using this type of outsourced customer service — one that fuels your bottom lines and your brand reputation — virtual receptionists support your lead-generation pipeline.
1. They Nail the First Impression
With the rise of the omnichannel customer experience, one out of every four prospects will go straight from searching your website to making a direct business phone call. Those same prospects respond far better when a warm, engaging voice picks up on the other end — particularly if they've called to learn details about your products or services. In other words, virtual receptions launch your omnichannel lead generation strategy off on the right foot.
2. They Build Meaningful Relationships
Virtual receptionists are dedicated almost exclusively to public interfacing activities. This classifies their role as akin to customer service. And what is true customer service, if not a key part of customer relationship building?
Your virtual receptionist can act as a friendly FAQ directory, a knowledgeable switchboard and a brand liaison, happy to communicate with callers and collect relevant servicing details to make their call a good experience. All this builds an organic rapport with callers that paves the way for positive relationships.
3. They Personify Your Business
Virtual receptionists may be the first interaction a prospect has with your brand. The tone, helpfulness and quality of the exchange will reflect significantly on the overall impression a caller takes away about the nature of your business.
4. They Present Brand Consistency
A dedicated team of virtual receptionists uses scripts personalized for your organization and comes trained on how, when and why to deliver those scripts. You don't have to worry about callers hearing wrong answers or experiencing incongruent messaging when they give you a ring.
Benefits of Hiring a Virtual Receptionist
Virtual receptionists unlock several time and money-saving advantages for your business.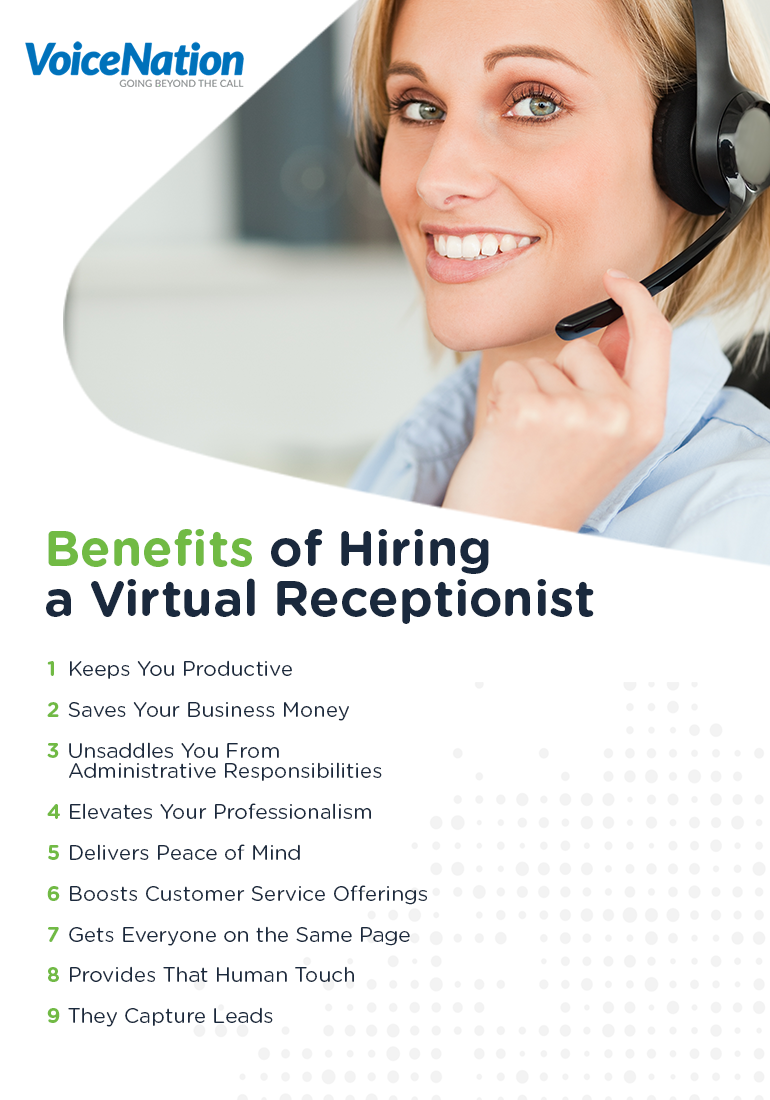 1. Keeps You Productive
Virtual receptionists limit interruptions throughout your workday.
Imagine the amount of time you would save just by reducing the number of inbound and outbound calls you personally make. Virtual receptionists can execute a spectrum of calling operations, from confirming appointments to returning inquiries to sourcing and collecting additional information for a business concern.
By taking a significant load of administrative duties and customer support interactions off your shoulders and your employees', virtual receptionists allow others in the organization to focus on their value-adding tasks and long-term projects.
2. Saves Your Business Money
Today's virtual receptionist answering services cost a fraction of their full-time, in-house equivalents, yet perform the exact same role. Plus, the service model alleviates you from time-consuming and cost-prohibitive employee training and complicated benefits programs, as well as coordinating sick leave, vacations, and similar policies. Your receptionist service provider handles all that for you — and more.
3. Unsaddles You From Administrative Responsibilities
Organizations of all shapes and sizes operate best when their employees possess a clear sense of purpose. In other words, jobs are clearly defined, with employees aware and equipped to perform the complete spectrum of role-specific expectations. Those daily roles also don't deviate too much from those expectations, keeping the office running as intended.
Virtual receptionists sit at the heart of this. Their administrative role orchestrates many front and back-office activities, freeing others to work on the tasks and projects imperative to their place in the organizational structure.
4. Elevates Your Professionalism
Externally, having a receptionist imbues your business with newfound levels of scale and professionalism. Callers respond positively to the personal attention given by your virtual receptionist. They leave interactions with the impression your organization is a well-managed and efficient one, operated in a smooth and reliable fashion.
Internally, a virtual receptionist supports better time management, delegation, and communication skills.
5. Delivers Peace of Mind
Virtual receptionists ensure every call is answered every single time. You're covered within or outside business hours, over vacations, across the holidays — or even during a non-stop day in the office where you simply don't have time to field a constant stream of calls. Virtual receptions handle all this for you and more, courteously and efficiently.
6. Boosts Customer Service Offerings
Using a virtual receptionist allows you to extend your customer servicing business hours. New and prospective clients alike benefit from the broadened opportunity to have their questions answered or their problems mitigated, all from the convenience of a phone call.
Your receptionist answering service provider also assures the quality of those calls. Answering services conduct ongoing receptionist training as well as formal employee rating and review programs. The service provider monitors a tailored number of phone calls to ensure your virtual receptionists perform in a way that best represents your brand, communicating with constituents in a warm, engaging, and informative manner no matter the nature of the call.
7. Gets Everyone on the Same Page
Within your organization, a virtual receptionist seamlessly routes callers to the right place. Customers receive personalized care regarding their exact questions or concerns from a team member dedicated to their assistance. Whether the call's final recipient is right there in the office or halfway across the country, receptionists ensure inquiries funnel exactly where they need to without delay.
Virtual receptionists also play a key role in ensuring calls are aligned with your schedule and priorities. Your receptionist will relay information to you ahead of time about the nature of the call before connecting the transfer, ensuring call purpose and clarity. Because of their communicative efforts, phone calling activities in your work reach new levels of effectiveness and organization.
8. Provides That Human Touch
More and more consumers today expect personalized attention from businesses they interact with. Using a virtual receptionist meets that demand head-on, providing actual human assistance across the spectrum of customer service calls your business tends to. Receptionists are friendly and informative, experts at handling the nuances that come with customer care. What's more, that assistance is available in real-time — without making the caller work through an automated queue.
9. They Capture Leads
Out of the office for an extended length of time? For the day? After business hours? No problem. Virtual receptionist services offer around-the-clock, 24/7 — and sometimes even 365 — answering so you never miss a qualified lead.
How to Choose a Virtual Receptionist Service
Spurred by advancements in communications technology, there are more choices than ever for outsourced receptionist service providers. Yet quantity is not synonymous with quality. Consider these six characteristics when vetting your potential virtual receptionist answering service to help determine which provider makes the best fit.


1. Availability
What hours are vital for your organization to have a real-time receptionist — and what hours would be valuable customer service add-ons? Does the potential answering service provide around-the-clock live receptionists that meet those demands — including weekends and holidays — or are operations maintained only during regular business hours?
2. Consistency
Will you be assigned the same virtual receptionist or group of team members? Or will you simply get whoever's "on shift" at that hour? Plus, how will a receptionists' performance be measured, and are phone calls actively monitored to ensure quality, professionalism, and just the right amount of human personality?
3. Service Inclusions and Add-Ons
Live answering is only the surface layer available amongst today's virtual receptionist providers. Other services include:
Voicemail administration and monitoring
External call duties
Calendar scheduling
Custom greetings and service scripts
Bilingual communications
Dispatching
Message couriering
And more
Be sure to inquire if a potential answering service can host your telephone number, as this makes it far easier for your receptionist to conduct their full range of assistance. You can also discuss if a service provider maintains any additional customer tools, such as mobile apps or online dashboards that give you instant and direct access to your virtual reception.
4. Performance Management
Some companies might prefer to monitor and rate receptionists internally, while others look to their answering service provider for ongoing performance management. Consider which you'd prefer to ensure call and answering quality, as well as the time and resources needed to assure objective, metric-based performance reviews.
It's also pertinent at this stage to inquire about the location of the virtual receptionists themselves. Do receptions work from home or from a central call center?
5. Pricing
There are three main pricing models virtual receptionist companies use today to charge for services:
By the minute: Companies charge only for the time the receptionist spends interfacing one-on-one with a caller.
By the end-to-end service: Companies charge according to the collective services rendered to complete a call transaction, which may include the minutes a receptionist spends talking to a customer, the customer's transfer to your direct line, the connection to your voicemail as well as the minutes aggregated during your return call.
Bulk service package: Companies charge a flat rate based on the number and depth of services administered to your office.
Also, does the virtual receptionist service allow for a free trial? The "try-before-you-buy" amenity is the way to assure call greetings, transferring, voicemail services, and calendar scheduling all live up to your servicing expectations.
Now you'll never have to ask, what is a virtual receptionist!
Make the Right Call for Your Business With VoiceNation


Interested in a virtual receptionist but not sure where to start?
We can help. As one of the nation's top live-answering business solutions, VoiceNation has mastered the full range of modern virtual receptionist and answering services, all geared toward one goal — helping you build the best connections with your customers at a fraction of the cost of an in-house receptionist — but without sacrificing call convenience, quality or care.
Sound too good to be true? Start a free trial of our virtual receptionist services to see for yourself.
Live Answering Service
Virtual Receptionist by Industry